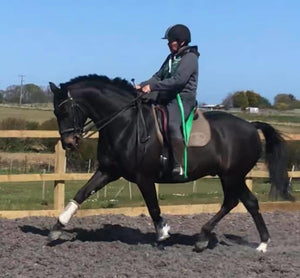 Verity Franks Lockdown Blog.
LIFE AFTER LOCKDOWN 🤣🤣
Feeling pretty privileged n very lucky 🍀 to be based at home with the horses/dogs, plenty of space n things to do!
The list of jobs appears to be endless! It's surprising how many things you shelve due to lack of time, Feeling sad for those of you not in such a fortunate, position.......so projects week one lock down, prepare summer fields, fencing/fertiliser/spraying Mum was very busy!
Then all horses had a make over/tail leg wash......week 2/3 re fence arena this was completed with my brother who came at 6 am 🤯sort surface n re surface round pen, involving lots of digging/weeding/moving surface n levelling.
We've generally worn ourselves out 🤣🤣#hamstringshurt. We then emptied n power washed stables n rubber matting , amongst these ongoing jobs im extremely lucky to have 7 horses in work, so definitely keeping me out of trouble think my horses are wishing I'd go back teaching 🙄🙈🤣 they have never had so much attention 🤩on a positive note its gives you time to play n be braver in your training to try new things knowing that you're not out competing the day after with your horse keen to show their new tricks 🤣🙈🤯
The stud work should kick of in a week or so we have deliberately left things a little later so hopefully by the time we are ready for mares to be scanned etc we may be in a safer position, with 2 mares due one in May one in July. Flossie n Bella both to Dax. We have something positive to look forward too , Bella at Thornton house, Flossie to bring home soon from Tibthorpe. 
Massively missing teaching n competing and everyone n the things we take for granted on a day to day basis, but we have all got to try n be patient, feeling immensely sad for all those lost and families been put in this sad situation of not been able to even be with their nearest n dearest, very grateful for our amazing NHS that have put themselves on the frontline at risk to care for the many affected, and all those fantastic key workers keeping the cogs turning 💪

On a positive note many plans for later this year when we are out of lock down. Pony parties/Indian meals/bread making parties/gin tasting evenings n I don't even drink gin 🤣🤣 although I have gone from teetotal to having an odd cider 🤣, stay safe peeps n hopefully see you all very soon 😘
---
275 comments