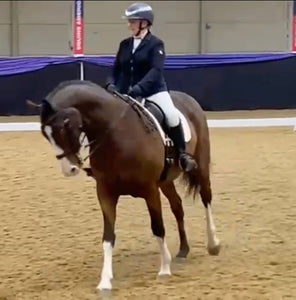 This post is slightly belated but Jake deserves his moment!
Time to compete has been limited for me this year and whilst we qualified for the Pet Plan Area Festival Winter Championships at Hartpury in April, sadly Jake's bruised foot halted our taking part. 
Luckily we qualified for the Area Festival Summers by the skin of our teeth. 
At the AF second round at Port Royal, we were fortunate to secure a ticket to the Nationals which were held at Arena UK earlier this month.
Jake behaved impeccably and we finished just outside the top 10 gaining a PB for us at Advanced Medium level💪. Our one eyed wonder exceeded all my expectations and given our limited prep he was a total superstar. I feel privileged to have gained his trust over the time we've been partnered, although he does sometimes get giddy! He's a tall lad and Im a short lass but together we make it work. 
As always huge thanks to Heidi and Michael for your unwavering support. Also to Heidi for all your great training, we couldn't do it without you. 
Thanks to our top farrier Simon Jackson, Michelle Brown and her magic hands, Sally Ann Kingsley the demon dentist, Sarah Rushby - Superior Saracen Feeds and last but not least Paul Hayler for kicking ass! 
Next stop the Veteran Rider Champs….
#sometimesitsgoodbeingold
---
26 comments